Dog Walker * Camp Counselor * Employee Fitness & Heath Advisor * Content Curator *
The daughter of Pet World owners, Tim and Sherry Emerson, Rhiannon was born and raised in Lawrence, Kansas and has been an actively involved part of Pet World her entire life. From decorating customer bags as a toddler to helping with school presentations as a child, from working sales events as an adoloescent to becoming a camp counselor in high school, Rhiannon has been a long standing part of the Pet World Experience.


From Camp Kid to Camp Counselor
In 2003 we created a summer camp program for kids. Back then it was basically an experiment mostly involving Rhiannon, her twin brother, Spencer, and their friends. Each summer the program grew and Rhiannon played an integral role in developing new adventures and improving the camp experience. After two years at KU, Rhiannon enjoyed her last summer as Lead Camp Counselor in 2019 as she prepared for her next level of schooling in Tampa, Florida. Her surgical program runs year round so we don't expect Rhiannon will be back again for summers after this one.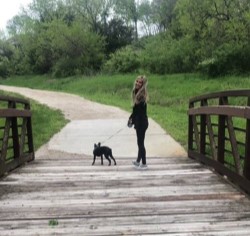 Dog Walking
Before she moved in August, 2019, Rhiannon spent her summer helping PW create our new Dog Walking Service! She was seen out and about walking dogs and training new staff. Having touched so many lives, many, many people are very sad to see her go but we all look forward to watching her grow and succeed in the medical field!
Employee Fitness & Health Advisor
Rhiannon had her first stethoscope at age 3 and has always been fascinated with the human body so it was no surprise she wanted to get into the medical field. Growing up a student athlete added an extra interest in health and fitness so, even while living in Tampa, Rhiannon stays available for counsel anytime to help employees with their fitness journey.

Content Curation
Even though Rhiannon moved to Tampa for most of the year she continues to work remotely for Pet World, developing new content to keep PW's online presence informative and relevant.