Pet World carries a variety of different pythons from arboreal green tree pythons to larger Burmese pythons! Below is a list of some of the pythons we have for sale at Pet World.
Spotted Pythons
Green Tree Pythons
Normal and Specialty Morph Pythons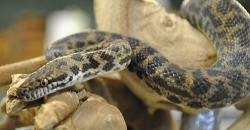 Pictured: Spotted (Children's) Python
Please remember this list is for reference only. For current availability please call 785-841-7476 or stop in and see for yourself! Availability changes hourly.