Spend time with the creepy crawlies this Halloween!
On the Saturday, before Halloween, kids are invited to enroll in our Parents Night Out, Halloween edition! Click here for details.
On Halloween 2020, little costumed trick-or-treaters are invited to stop by Pet World between 3pm and 7pm to trick or treat! Most of the PW staff will be costumed and we'll have lots of candy! Enjoy an optional, free, little haunted house set up in the Education Room for children ages 4ish-8ish who want more trick than treat. Warning: Strobe lights, fog, scary music, pop up frights, macabre, and very small spaces (like a crawl through tunnel that's 24" wide and 36" high). Not made for big kids or adults but parents are welcome to watch (or try to squeeze through with your kids). If your little one is too nervous they can skip the trick and go right to the treat!

Proud supporters of the Teal Pumpkin Project!
HISTORY
When owners, Tim and Sherry had children, they built a temporary haunted house for the neighborhood kids to enjoy on Halloween night with the intention of running it five or six years, while their kids were little. It was operated not only by Pet World employees, past and present, but also volunteers from all over the neighborhood and across Lawrence! Every year grew bigger and bigger, with different themes, including graveyards, werewolves, insane asylums, a haunted castle, a haunted old movie theatre -- Sinister Cinema -- SCARY tales (twisted fairy tales), Zombie Apocalypse, and our final year, 2015, the HAUNTED BAYOU! Everyone happily donated their time and we had so much fun we ended up running it 12 years but now that their kids are grown, we've moved the Halloween events back to Pet World.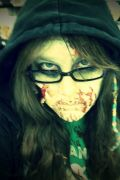 2015 was the last year for the haunted house but we want to thank everyone who helped and hope the kids will cherish those memories as much as we will!
Pet World wishes you a safe and happy Halloween!