Our Story

Pet World is a multi-licensed, locally owned, animal rehoming center. We operate our exotic rescue shelter in the middle of our huge, full line pet store. All fish and retail animals are responsibly sourced and all animals, including rescues, regardless of origin, are fully integrated into the general population in the same way, with equal care, husbandry, exposure, and accessibility to the public. You'll see $10 rescued animals right next to $200 specialty breeds. We don't believe all animals should be kept in captivity but we do believe all pet animals who are in captivity deserve the same TLC and opportunity for forever homes. Established in the 1970s first as PetStep then in the early 1980s as Pet World IV, one of several Pet Worlds owned by the Stice family, current ownership by the Emersons has been in place since 1988.

Less than an hour from the Kansas City area, the Pet World Experience has been a long standing, favorite place in Lawrence, Kansas and recognized with numerous awards, the most important for outstanding community service. The only pet store to win "Best of Lawrence" every single year without fail (since the contest began in 1994), Pet World works hard to set the industry standard for all shelters and pet stores to be more than just a place that rescues, adopts, or sells animals and focus on expertly homing and rehoming the right animals with the right people at the right time. Even the state of Kansas uses Pet World in Lawrence as a training site for new Animal Health Inspectors because we set the bar so high. Part nature center, part exotic shelter, part pet store, part petting zoo -- we guarantee your Pet World Experience will be unlike any experience you've ever had!
We offer camps, classes, parties, tours, and events you'll never forget. Youth volunteer programs, internships, paid apprenticeships, special needs employment, full and part time employment available. Birds, small mammals, reptiles, amphibians, arachnids, salt and fresh water fish, adoptable cats and dogs, exotic animal rehoming, plus everything you need for any kind of pet you own including the biggest selection of plants, wood, and rock this industry has ever seen in one place. And did we mention the freshwater fish selection is unmatched by any other place in the country? Oh yeah. Make the drive. You're going to love this place.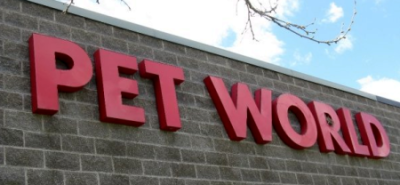 With exotic rescues, educational programs, hands on access to animals, and passionate employees, independently owned Pet World in Lawrence is truly unique. Please come see for yourself everything a rehoming center can be!
SOLIDARITY STATEMENT
The Pet World Experience has offered a SAFE SPACE to connect with animals since 1988. We pledge solidarity with all kind, respectful, nature and animal loving people, standing together with people of all color, regardless of background, age, gender identity, sexual orientation, physical ability, zip code or lack thereof. Our mission to Foster-Educate-Inspire-Conserve and our dedication to all living things, animals, nature, children, and conservation are all in line with the core principles of movements like #BlackLivesMatter, #StandingRock, and #LoveIsLove, asking for fair and equal rights for all humans. We want people who might otherwise feel invisible and marginalized to know they are always welcome and safe at Pet World in Lawrence and an important part of the Pet World Experience.
We hear you. We see you. We are you.
And you matter to us. #StandTogether

STANDING TOGETHER IN SOLIDARITY
Website Disclaimer
A note about this web site: PetWorldLawrence.com is our original site, created for informational purposes only. We hope to provide you with round the clock access to Pet World via this site, however, please remember that we don't sell from this particular site. We do have a new online store launching in 2020 in order to provide products to people who can't visit us in person, and our intention is to extend the personalized service our local customers have come to expect in Lawrence, Kansas. This site is for your convenience, but you may notice it is not a place to shop and there are no email addresses for contact information. If you live far away and would like to shop at our online store, please click HERE. (available in late January, 2020) To speak to a Pet World employee, please visit or call 785-841-7476 during business hours (Mon-Sat 10am-8pm, Sun 11am-6pm). For more information about Pet World and for the full experience, please visit us at 711 West 23rd St. (23rd and Louisiana) in Lawrence, Kansas.