COVID-19 UPDATE: Lil Critter and Critter Camps were delayed and rescheduled according to State and County Guidelines. We apologize for any inconvenience.

LIL' CRITTER CAMP!
2020 LCC open enrollment begins April 15!
Early enrollment (additional fee) begins March 15
Note:
2019 LCC SOLD OUT April 15
2018 LCC SOLD OUT April 17
2017 LCC SOLD OUT May 8
2016 LCC sold out May 6

Every summer we had eager, younger siblings just wishing they could go to camp. By request, we added an introductory camp for the really little ones, ages 3 to 4. Lil' Critter Camp is designed for preschoolers (ages 3-4) who are ready to spend a couple hours at Pet World, with or without mom or dad. Parents are welcome to stay and participate, observe from a distance as much as desired, or use the time for other things, knowing their precious little ones are safe with us.
From 9-11am kids are introduced to pets, starting slowly with the easier pets and advancing throughout the week. They learn a few animal basics and safe handling techniques. Mostly, they just have fun playing with the animals!
2020 Lil' Critter Camp
Ages 3-4
Tue-Fri 9-11am
(rescheduled dates)
July 7-10, 2020 $75
4 day, morning camp for beginners!
Mostly indoors, includes camp shirt, laundry T-R, and snacks.
Open Enrollment begins April 15*
*Early Registration opens April 1 (addl fee)
*Super Early Registration opens March 15 (addl fee)
4 of 10 spots available
---
2020 CRITTER CAMP!
Mornings and afternoons, Ages 4-5-6
Note:
2019 CC sold out April 28 (am), April 30 (pm)
2018 CC sold out April 15 (am), April 24 (pm)
2017 CC sold out by May 1
2016 CC sold out by April 6
2015 CC sold out by May 4

Critter Camp always sells out quickly so we expanded to two weeks in 2017! Designed for kindergarteners and first graders, Critter Camp is a four or five day long, action-packed ½ day camp. Kids learn about and play with animals every day!
The last day includes a field trip to the Tortoise Farm, located on Pet World's huge, private nature preserve. Parents are welcome to join us on this field trip to introduce them to the property used for summer camps. (Parents and family are invited out one more time, a few years later, during their child's very last year of Wilderness Camp.)
Critter Camp is our original, introductory camp (since 2005) for kids ages 5 and 6, up to a very young age 7. The camp was basically designed for kids entering or just completing first grade but we added a slightly younger version of Critter Camp, ages 4-5, as well as Lil' Critter Camp for 3-4 year olds. During the week kids learn about animals at Pet World, adding new animals every day.
AGE 3-4
The 8 hour preschooler camp is four, 2-hour mornings, (9-11am), usually the week before Memorial Day. (Delayed in 2020 due to COVID-19.) We call this camp Lil Critter Camp.
AGE 4-5
The 12 hour younger Critter Camp is four, 3-hour, half days, (8:30-11:30am or 1-4pm), usually starting the Tuesday after Memorial Day. (Delayed in 2020 due to COVID-19, this year it's Mon-Thu because of Independence Day weekend.)
AGE 5-6
The 17.5 hour older Critter Camp is five 3.5-hour half-days, (8:30am-12pm or 1:30-5pm) M-F, and usually the first week of June (delayed this year due to COVID-19).

All Critter Camp kids have hands on experience with all the different types of animals we have at Pet World. The last day is very special with a 90-120 minute field trip to Pet World's Tortoise Farm! Never open to the public, Critter Campers can invite parents to join them feeding PW's famous tortoises in their secret outdoor enclosures and explore about 10 acres of PW's private nature preserve. They get to hike some trails, see where our bigger camp kids catch frogs in the beloved Frog Pond, visit the Snake Barn, cross the tree bridge, and if there's time, they can play in the mud and splash in the creek. Critter campers are returned to their parents happy, dirty, and wonderfully exhausted!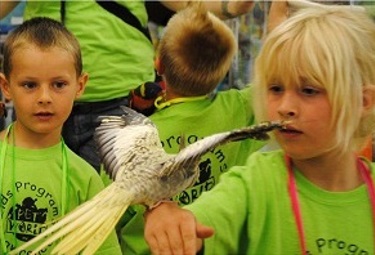 Camper practicing her new bird handling skills at Pet World.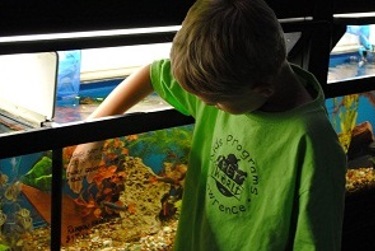 Camper helping with daily maintenance activities in our fishroom!
---
2020 Critter Camp
Ages 4-6 (Four half-days)
Mornings, Mon-Thu, 8:30am-11:30am
(rescheduled dates)
June 29 - July 2, 2020 $150
0 of 10 spots available SOLD OUT JUNE 23
2020 Critter Camp
Ages 5-6 (Five half-days)

Afternoons, Mon-Fri 12:30-4pm
July 6-10, 2020 $195
0 of 10 spots available SOLD OUT MAY 15

Includes camp shirt, daily camp laundry, snacks, field trip to tortoise farm on Friday, and FREE field trip transportation (parents are welcome to join).
Open Enrollment begins April 15*
*Early Registration opens April 1 (addl fee)
*Super Early Registration opens March 15 (addl fee)
NOTE for 7 year old children:
If your child is a very young 7 year old, fresh out of first grade, with a birthday not long before June, (or a first time Pet World camper) you might seriously consider the five day Critter Camp. If your child is an older 7 year old, soon to be 8, who has done a PW camp before or is adventurous and can easily do an all day camp with 8 year olds, you might consider the first week of Animal Camp, instead.
---
All Pet World camps are indoor & outdoor, rain or shine! Includes camp shirt, laundry, snacks, and FREE field trip transportation!

---
The Fine Print: Online registration forms are usually updated by March 1. Please check the year on the form before downloading or the price may be incorrect. Online registration is an option but we would prefer to discuss camp with first time families in person. Parents, please download, print, then bring in the completed, signed form at your earliest convenience. We call our programs "summer camps" for convenience but actually they are classified as instructional, topic/task specific classes under K.S.A. 65-501 which are exempt from licensing requirements (similar to a sports training camp or Vacation Bible School). Our programs are private and sometimes used for childcare, however, because they are less than five weeks in duration, they are not classified as daycare. Even though licensing is not required, our instructors and leaders are fully trained in animal husbandry, local nature, certified in rescue, first aid, and CPR, and we maintain an adult to child ratio of 1 adult to 6 kids. Enrollment is limited because we keep our groups very small.
COVID-19 UPDATE: For your safety and convenience, please feel free to email your form to This email address is being protected from spambots. You need JavaScript enabled to view it. and we will be happy to call you to discuss then send you an electronic invoice you can pay online.
Open Enrollment: Registration is usually handled in person, first come, first served, beginning when the store opens on APRIL 15 (tax day). AFTER the forms are processed in person, we'll begin accepting and processing mailed in and emailed registrations that are prepaid via check or called in with credit card (that did not include the early registration fee). Remember, parents who are signing up in person will be processed first and, yes, there is usually a line to get in before we open and we often sell out some camps by noon. If only there were more weeks in June!
Early Enrollment
It's possible to pay an additional, early registration fee and register beginning March 15. Early, prepaid registrations are processed in the order received as long as they are accompanied by the early fee. First time camp parents can drop registration off early in person, or returning camp parents can mail the form with a check for payment, or email it to Ande or Sherry and call with a credit card to pay over the phone, or we can send an online invoice. Forms submitted with returned checks will be removed from registration until the bad check and fees are paid then added back to enrollment as space allows (provided spots are still available). The numbers of available spots are updated every day from March 15 until all camps are sold out (which happens every year by mid May (except 2020, of course).

Whenever possible please print on both sides of recycled paper.
---
Been to Critter Camp and loved it?


Maybe your child is ready for Animal Camp!