The reptile area of Pet World is where many of our other (non-reptile) creepy critters end up! We also carry a full line of products for these creatures including: food, bedding, cages, treats, books, bowls, lighting, and more!
This list is for reference only. For current availability please call 785-841-7476 or stop in and see for yourself! Availability changes by the hour.
Crabs
Pet World has a variety of crabs from hermit crabs to vampire crabs! These animals make great low maintenance pets. As the exotic animal shelter for Lawrence, Kansas, we have animals from rescues to rehomes to specialty bred just for us. Below is a list of some of the crabs you might see at Pet World.
Hermit Crabs (Natural and Painted Shells)
Purple Moon Crabs
Fiddler Crabs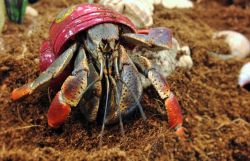 Tarantulas
Pet World has a variety of tarantulas from Pink Toes to Indian Ornamentals! Read more about why we love tarantulas here! Below is a list of some of the tarantulas you might see at Pet World.
Rose Hair Tarantula
Pink Toe Tarantula
Green Bottle Blue Tarantula
Rear Horned Baboon Tarantula
Straight Horned Baboon Tarantula
Indian Ornamental Tarantula
Mexican Red Rump Tarantula
Brazillian Black and White Tarantula
Emerald Skeleton Tarantula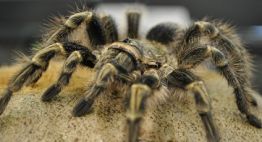 Scorpions
Scorpions are a great choice for someone looking for an interesting, unique, low maintenance pet! If you're interested in adding a scorpion to your family give us a call or stop by to talk to an employee about caring for one of these awesome critters!
Rock Scorpion (Babies! About 1 inch)