Pet World Holiday Sales and Events
MAGIC PET STOCKINGS!
From Thanksgiving until Christmas you can share in Santa's magic! Buy one of our magic stockings for your pet (most are $2) and we'll take 20% off all the wearables, toys and treats you can stuff inside! We'll even personalize your stocking with your pet's name for free while you wait! A limited amount of giant, three foot stockings are available. Play Santa and stuff all kinds of Christmas gifts inside to get 20% off whatever fits!
See a Pet World Santa specialist for details.
HOLIDAY BONUS BUCKS!
Throughout the year Pet World offers a percentage back on most of your purchases in the form of Bonus Bucks to be spent on your next visit. Thanksgiving weekend, on Black Friday, we offer a few really crazy deals and in honor of Small Business Saturday, we GIVE BACK TO YOU by temporarily increasing our Bonus Bucks an average of 10X the normal amount! Our Give Back promotion is Thanksgiving weekend and lasts all day Friday, Saturday, Sunday, ending at closing time on Cyber Monday.
For December, additional Holiday Bonus Bucks are available (on top of regular Bonus Bucks!) to the tune of 10% back on the purchase of qualified* kits and complete set-ups for your pets! December is the time to expand your pet passion!
HOLIDAY SANTA SALE! ONE WEEKEND ONLY!
One weekend in December we extend Santa's magic beyond the stockings! Take 20% OFF all kinds of extras throughout the store for ALL your pets with no limits! Cages, tanks, decorations, beds, cat furniture, toys, treats, wearables -- all the fun stuff Santa would bring your pet goes on sale! Our Pet Stocking Stuffer Sale and Holiday Bonus Bucks are good throughout December but the unlimited 20% Off Santa Sale is only one weekend!
See a Pet World Santa Specialist for details.
BLUE CHRISTMAS!
The third weekend in December we'll have a BLUE CHRISTMAS without you if you miss this event! Scratch off cards, incredible aquarium sales, magic pet stockings, and Lawrence Police Blue Santa info help for those in need. Watch for the blue signs throughout the store. Join us!‬
FREE BOARDING for a WEEK!
To help with transitioning your new pet home during the busy, holiday season, or if you need to keep a special pet surprise hidden away safely before Christmas, you can board with us! Qualified* purchases include one week of boarding absolutely free. Or you can pay a ridiculously low price to board your exotic pets with anytime. Call (785) 841-7476 right away. Space is limited.
*Qualified set ups are complete kits for new pets, premade or custom made on site, with everything your pet needs. They are also new, complete kits purchased to expand your existing pet's habitat. Please speak with an employee for additional details.
2019 HOLIDAY HOURS:
Thursday, Nov. 28 Closed for Thanksgiving
Friday, Nov. 29 Black Friday Deals, Give Back Weekend begins
Saturday, Nov. 30, Small Business Saturday, Give Back Weekend continues
Sunday, Dec. 1 Give Back Weekend continues @ 10X normal rate
Monday, Dec. 2 Last day for Give Back Weekend

Saturday, Nov. 23 Magic Pet Stockings begin
Saturday, Dec. 1 Holiday Bonus Bucks begin
Saturday, Dec. 7 Santa Sale
Saturday, Dec. 8 Santa Sale
Saturday, Dec. 21 Blue Christmas begins
Sunday, Dec. 22 Blue Christmas ends @ 6pm
Tuesday, Dec. 24, 10am-4pm (closing early)
Closed Christmas Day
Normal hours resume Thursday, Dec. 26
M-F 10am-8pm
Sat 10am-7pm
Sun 11am-6pm
Closed New Year's Day
HERE FOR YOU!
The Pet World experience is all about positive, mutually beneficial relationships between humans and animals. Please allow extra time when you visit so we can talk things all the way through. Buying animals or animal supplies online or through corporate, chain stores is not only destroying local, small businesses, it's irresponsible and risky for the animals. Nearly all the animals we rescue are purchased at corporate chain stores or online. Come see the rehoming experts at PW instead.
Our job is not just to adopt out or sell animals, but to make sure you have all the info needed to make the right decision and provide everything you need for success with your new pet. Sometimes the best pet decision is no pet at all but maybe regular visits to PW without taking home a pet until the time is right. We'll help you decide like we've helped thousands of others since 1988. And remember - buying from PW keeps us here for you, now, and in the future.
Are you giving a pet as a gift? We can help with that, too! Just remove the holiday element from the gifting decision. Occasion aside, either the recipient is ready, willing, and able to have a pet or they are not. Occasion does not change responsibility level. If the situation is right, it's best to give the pet last, after letting everyone know to stay quiet and calm. Even better might be to gift the entire set-up with a stuffed animal or a picture of the animal inside and then bring them in later to get their pet.
As always, when in doubt, stop in to visit and let's talk about it. You're the reason we're here.

Think Global. Spend Local.
You're going to buy it somewhere.
Support the places who support you and your local community.
Shop at the places you'd miss the most.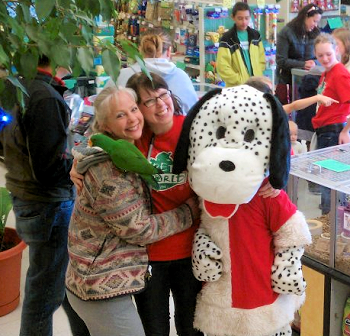 *Qualified set ups are complete kits for new pets, premade or custom made on site, with everything your pet needs. They are also new, complete kits purchased to expand your existing pet's habitat. Please speak with an employee for additional details.