The Annual Pet World Holiday Sale
Our Holiday Sale is the first or second Saturday in December!
PET STOCKING STUFFER SALE!
All during December you can buy a stocking for your pet and we'll take 20% off all the toys and treats you can stuff inside! We'll even personalize your stocking with your pet's name free while you wait!
HOLIDAY BONUS BUCKS!
Throughout the year Pet World offers 5% back on your purchases in the form of Bonus Bucks to be spent later. For December, additional Holiday Bonus Bucks are available to the tune of 10% on the purchase of *qualified kits and complete set-ups for your pets! December is the time to expand your pet passion!
HOLIDAY SALE! ONE DAY ONLY!
On the first Saturday in December we'll extend the stocking stuffer discount beyond toys and treats to include almost EVERYTHING in the STORE! Take 20% OFF supplies for ALL your pets! Dog and cat food is generally excluded unless it is part of a qualified "New Puppy/Dog" or "New Kitten/Cat" complete kit. Pet Stocking Stuffer Sale and Holiday Bonus Bucks are good throughout December but the Storewide 20% Sale is only on Saturday!
FREE BOARDING for a WEEK!
If you need to keep a special pet surprise hidden away safely before Christmas you can board with us! We'll give you one week's boarding absolutely free.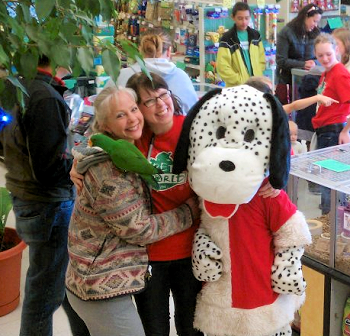 *Qualified set ups are complete kits for new pets, premade or custom made on site, with everything your pet needs. They are also new, complete kits purchased to expand your existing pet's habitat. Please speak with an employee for additional details.