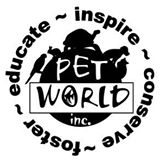 As you know, Pet World suffered a tragic fire on Memorial Day that rocked our community. For the first week we were totally overwhelmed with public support and requests to donate. Because we have insurance and we are not a non-profit we resisted accepting donations for relief efforts. We had never been through anything like this before and, quite frankly, had no idea how to handle public funds. Plus we were saddened and discouraged by the phony donation sites being set up in our name by people who were not PW representatives. At first we simply asked folks to refrain from making donations but our supporters would not back down, insisting they not only wanted to help, they needed to help. So we finally went to our own, local bank and they helped us set up an official account.
UPDATE: At this time Pet World is reopened and going strong and the fire prevention system is in place (complete with sprinklers), so we are now using fire relief funds to enhance our community service efforts and sponorships.
To officially donate to fire relief efforts you have the following options:
Send money online through PayPal to
This email address is being protected from spambots. You need JavaScript enabled to view it.
Visit any branch of Central Bank of the Midwest (formally Douglas County Bank)
Mail donations to:
Central Bank of the Midwest
Pet World Relief Fund
300 W. 9th St.
Lawrence, KS 66044
Or donate directly to the Lawrence Humane Society in our honor and let them use the funds for their facility.
Please note Pet World has not authorized any GoFundMe or similar accounts. All financial donations are being handled solely by Central Bank. Please do not be fooled by unofficial fundraising accounts.
Thank you very much for your overwhelming support. Your generosity is greatly appreciated.
OFFICIAL FUNDRAISING PARTNERS:
Eldridge Hotel & Bar
LK Promotions
Mi Ranchito
On The Border
Sunfire Ceramics