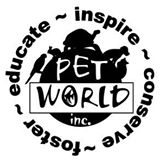 PET WORLD'S ANIMAL RESCUE WORK

Everyone knows Pet World in Lawrence, Kansas is a huge, full line pet store but did you know we are also a licensed animal shelter? For decades we have been rescuing and rehoming animals and operating our shelter openly, right inside our pet shop. Our shelter is a little different than most because it is privately owned and operated. We don't have a board of directors or fund raising campaigns and you won't find our surrendered animals off in sterile, concrete pens. Our rescue animals are intergrated into the general population, available right alongside the responsibly sourced, fancy purebreds and given the same care and same opportunities for forever homes. Our shelter expenses are covered by profits from merchandise sales (and, more recently, donations from the public).

Many people don't know that the city of Lawrence, Kansas does not have its own city animal shelter. Fortunately for Lawrence, however, the Lawrence Humane Society offers its rehoming services for dogs and cats and Pet World Animal Shelter offers our rehoming services for everything else! We both offer these services as part of our community commitment, at no cost to our great city. Feel good about buying at Pet World, knowing that part of every dollar you spend helps support the successful rescue and rehoming of pets who just need a second chance.
You can donate to our shelter directly via PayPal using the email:
petworldanimalrescue at gmail . com.
(Sorry about the spaces. Leave those out and use the @ symbol instead of the word at. Displaying it this way just helps to keep the spam bots away.)
Donations can also be made anonymously at any branch of Central Bank of the Midwest (formally Douglas County Bank) or mailed to:

Central Bank of the Midwest
Pet World Animal Rescue
300 W. 9th St.
Lawrence, KS 66044
FIRE RECOVERY

As most of you know, Pet World suffered a tragic fire on Memorial Day, 2015, that destroyed our facility and rocked our community. For the first week we were totally overwhelmed with public support and requests to donate. Because we had insurance and we are not a non-profit we resisted accepting donations for relief efforts. We had never been through anything like this before and, quite frankly, had no idea how to handle public funds back then. We never used to accept donations for our shelter plus we were saddened and discouraged by the phony Go Fund Me and other donation sites being set up in our name by people who were not official PW representatives. At first we simply asked folks to refrain from making donations but our supporters would not back down, insisting they not only wanted to help, they needed to help. So we finally went to our own, local bank and they helped us set up an official account.
UPDATE: At this time Pet World is reopened and going strong and the fire prevention system is in place (complete with sprinklers). Thank you, but we are no longer accepting donations to rebuild because we're completely rebuilt! If you want to support our community service efforts and sponsorships, please simply shop with us whenever you can or donate to our Exotic Animal Shelter (info above).
Official donations to fire relief efforts were made using the following options:
Money was sent online through PayPal to petworldrelieffund @ gmail . com but that PayPal account has since been closed.
Donations were handled at any branch of Central Bank of the Midwest (formally Douglas County Bank) or mailed to:

Central Bank of the Midwest
Pet World Relief Fund
300 W. 9th St.
Lawrence, KS 66044
but that account has since been changed to our Animal Rescue account. Only donations to our animal shelter are accepted at this time. You can donate directly, in person, at our Lawrence location or via PayPal online. (Details above.)
Please note Pet World has not and will not authorize any GoFundMe or similar accounts. All financial donations for fire releif were handled solely by Central Bank and that's where our animal rescue money is handled, as well. We hope no one was or ever is fooled by unofficial fundraising accounts.
Thank you very much for your overwhelming support. Your generosity after the fire was truly incredible and your ongoing support of our animal rescue work is greatly appreciated.
SPECIAL THANKS TO OUR OFFICIAL FUNDRAISING PARTNERS after the fire:
Eldridge Hotel & Bar
Mi Ranchito
On The Border
Sunfire Ceramics