PW HALLOWEEN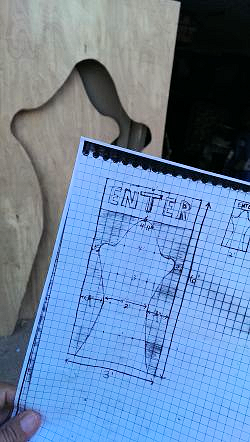 Ever wonder how many people it takes to handle Halloween at PW? Here is an overview of one year's community haunted house and cast list.
Theme: Zombie Apocalypse (a quarantined city)
Gate entry: TIM
Admit trick-or-treaters into the line. Ages 4-11, up to 4'11" tall, in costume.
Haunted House entry: SHERRY
Admits trick-or-treaters into the actual haunted house.
Scene 1 Courthouse inside City Hall
Judge: Ernie (next door neighbor)
Zombie Criminal 1: RachelMac (PW Trainer)
Zombie Criminal 2:
This first scene is the trial room. If kids are too nervous to handle this room they can chicken out and exit back through the courthouse entry door. If they can handle it they'll be found "not guilty" and allowed to ring the warning bell two times and then continue through the rest of the house. The exiting chickens or the sound of the bell will alert Sherry that it's time to let in the next group. Groups will be paced about a minute apart, except for extra gaps caused from the chickens.
Scene 2 Dark Alley #1
Zombie City Worker: MARIAH (PW Reptile Dept Mgr)
Hides behind entry door, closes it behind trick-or-treaters, and stalks them through the alley. Returns to entry when bell rings.
Shadow 1:
Scene 3 Hospital Full!
Zombie Patient: MEGAN (PW IT Director, former Kids Programs Director)
Non-Zombie Nurse: ANDE (PW trainer, former Kids Program Director)
Scene 4 Dark Alley #2 Full!
Shadow 2: Rhiannon (PW staff)
Shadow 3: Carli (friend, neighbor, former PW Stingray)
These shadows roam through secret passages between scenes 3, 9, 10, and 11
Scene 5 Sinister Cinema
Usher:
Audience Zombie 1: CIERA (PW Trainer)
Audience Zombie 2: ELLEN (PW Staff)
Behind the Movie Screen Zombie: PHILL*(PW Manager)
Theatre Window Zombie:MATT*(PW Trainer)
*The zombies behind the screen, at the window, and in the maze will assist in dragging the trick-or-treater actors out of line and in through the theatre door.
Scene 6 Maze
Maze Zombie 1:SPENCER*(PW Staff)
Shadow 4: Navid *(PW Staff)
Shadow 5:
Scene 7 Black Light Dance Club FULL!
Zombie Bartender: FITZ (PW Kids Programs Director)
Black Light Zombie: RACHEL C. (PW Manager)
Scene 8 Zombie Pen (5-8 actors)
Trapped Zombie 1: REAGAN E. (Tim & Sherry's niece)
Trapped Zombie 2: LAURA (PW Staff)
Trapped Zombie 3: CAMDEN (PW Staff)
Trapped Zombie 4: ASHLEY (PW Trainer)
Trapped Zombie 5:
Trapped Zombie 6:
Trapped Zombie 7:
Zombies trapped in the pen will rock their fencing, reach out from one side of the pen to people in line, the other side of the pen to people as they exit a tunnel, and occasionally break out of the pen, chase trick-or-treaters, & slip away to scare people. We should always have at least four zombies in the pen at all times.
Scene 9 Alley to Neighborhood Full!
Neighborhood Zombie 1: RAYANN (PW Stingrays player)
Neighborhood Zombie 2: TARA (PW Stingrays player)
Scene 10 House 1 Full!
Zombie Killer: FRANK (PW Stingrays dad)
Big, scary guy on the porch, sharpening a bladed weapon.
Scene 11 House 2
Homeowner Zombie:
Hiding Zombie: CHRISTIAN F. (PW Staff)
Shadow 6:
Scene 12 Backyard of House 2
Patio Zombie: RUSS (Megan's husband)
Yard Zombie:
Scene 12 Cemetery (4-10 actors)
Need at least four actors in the cemetery. There are two available coffins and plenty of hiding places.
Vampire 1: ANNA (PW Staff)
Vampire 2:
Ghoul 1: EMILY B. (Xavier's GF)
Ghoul 2: XAVIER (PW Manager)
Ghost 1: EMILY F. (Anna's friend)
Ghost 2:
Demon: MAGGIE (Anna's friend)
Skeleton:
Groundskeeper:
Gravedigger:
Scene 13 Dark Alley #3
Shadow 7:
Scene 14 CDC Laboratory FULL!
CDC Scientist: MALLORY (PW Staff)
CDC Lab Tech: JEREMY (PW Trainer)
CDC Zombie Lab Tech: NICK (Mallory's fiancee)
Scene 15 Little Red Schoolhouse FULL!
Zombie Teacher: AMY C. (PW Staff)
Zombie Student: ZACH (friend)
Schoolhouse Zombie Killer: MORGAN (PW Trainer)
This is the final scene. The zombie teacher and zombie student should essentially trap the trick-0r-treaters and the zombie killer should free them at the last minute, having them run out of the exit as fast as they can!
Roamers:
Non-Zombie Roaming Zombie Slayer: ELLI (PW Manager)
Roaming Haz Mat Worker:
We can only have a few roamers and only after all the other necessary positions (listed in bold) are filled. Otherwise, it's too difficult to keep the pacing correct and trick-or-treaters will not get the full effect of each scene without the actors present.
Exit Gate: Cheryl (PW Stingrays mom)
Positioned next to the entrance, this person protects candy buckets, jackets, and other checked gear while trick-or-treaters go through the haunted house then gives them candy as they leave.
Trick-or-Treater 1: ANTON (friend, neighbor)
Trick-or-Treater 2: KYLE (Amy C's cousin)
Trick-or-Treater 3: ZACHARY (Amy C's cousin)
Trick-or-Treater 4:
Young actors will pose as trick-or-treaters and pass through the line then get dragged in through the theatre door by zombies then sent back out to the front of the line.
ACTORS
All actors will need to meet with Sherry between Tuesday, Oct. 28, and Thursday, Oct. 30, to discuss costumes, sign up for a makeup time, walk through their scene, and plan their escape route in the event of an emergency.
Trick-or-Treaters
If small children are very nervous but really want to go through, we tell them to hold up their hand and say, "No, thank you." That is your cue to take it easy on them. We tell everyone no flashlights or flash photography but on occasion they'll break the rules or ask you to pose for a picture. That's fine. You should not grab a trick-or-treater but creeping up behind them closely over their shoulders, gently bumping them, tapping them, and reaching out to quickly grasp an ankle then release it is fine. Just make sure you keep the kids safe. If at any point a guest is disrespectful drop your character, don't speak, and simply point your arm/hand in the direction they need to go. Keep it scary but also keep it clean and fun. If parents are with kids, please play to the kids first and foremost.
Start and End Times (6-10pm) Halloween Night Only
All actors should be ready to go by 6 o'clock sharp. There will be food and drinks inside, upstairs and downstairs. No alcohol until after the haunted house is closed. Please use the restroom before 6:10pm. At 6:15 ALL ACTORS will exit the front door of our house, sneak out the south end of our yard, and parade north down Missouri Street to the corner past the kids in line then across the front yard, through the City Hall entrance, and work your way through the haunted house until you reach your scene. If the line dies down we might let in some slightly older kids late in the evening but only if there are no more trick-or-treaters. We will cut off the line at 9pm and should be clear by about 9:45.
Live Tours
Once during the night, sometime between 7 and 8:45pm, we would like each actor to leave your scene and take a live tour (alone) through the entire haunted house, including out the exit, back up through the people in line, and all the way back to your spot. You can travel with a group of trick-or-treaters or go through solo at your own pace (but please don't take too long). Except for your one, live tour, please remain in character and in your scene the duration of the night, until Tim comes through after the last group to dismiss the cast for the group picture in the front of the haunted house.
Group Picture and After Party
After the group picture, all actors are dismissed. Adults who do not have other plans are invited to stay awhile for the after party. Our twins will have some of their friends over for a small after party that goes 'til midnight. Most of the adults will stay upstairs and inside while most of the teens will stay downstairs and outside.
Parking:
Please carpool as much as possible and if you are leaving right after dismissal, consider having someone pick you up. Traffic will be insane that night from about 7-8:30pm. We'll ask our neighbors for permission to park in their driveways but most of you will need to park along the curb. Please check with Sherry before parking for the night.
Shirts and THANKS!
If you haven't already, make sure you get a PW Spooktacular shirt for participating. Thank you for helping us carry on this long standing neighborhood tradition!
---