You may have noticed we're remodeling!
It's an exciting time around Pet World but a little crazy. A few things have gotten misplaced (but are not gone!) and from time to time it's a little messy or loud but it will be worth it when we are finished!
We want to keep our customers in the loop about the changes we're making so here are a few!
Updates!
This was posted on 10-17-2010
The remodel has not slowed down over the last month, in fact – that's why it's taken so long for this update! Your Pet World crew has been busy!
The mural in the new education room is coming along! We're getting down to it just being the finishing touches on some things and then some of the smaller details!

Employees Megan and Erin spending a few very late nights at Pet World working on the mural – how? 90's music, caffeine and a common love of art. (Other staff contributors including Andrea, Carla and 3 brush strokes from our very own Bret.)
We've hosted our first few Birthday Parties and will have our first School's Out! Day Camp in the education room this week! Thanks for your continued support of Pet World's Educational Kids' Programs!

The Fish Room is no more. Is it a Fish Area? Fish Corner? Just Fish Department? It's hard to say (though our aquatics manager tells me it's "Fish Department" So maybe that's the answer) but one thing is for sure all of the walls are down. It's made our store look huge when you walk in now, even if we didn't really gain much in the area of square footage. We've also gotten in the first of some of our new tanks as well – A Deep Sea Aquatics Neo Nano tank!
The bathrooms are getting closer and closer to being finished so we have two public restrooms. They may even be color coded pink and blue! With the bathrooms almost finished that will mean tearing down yet another wall (What is that 5 or something?) so bare with us if things get a bit messy!
What are the next big moves in the remodel? Well, if you can, imagine if the Small Mammal and Bird department got swapped with the Reptile Department. Talk about a big move! It's one of the next big things on the plate though! Wish us luck!
---
This was posted on 09-17-2010
Progress has started on the rain forest mural going up in our new education room! The photos below are from about 2 hours progress up to about 15 hours progress between the 4 of us painting it. Please excuse the paint-by-numbers look of it right now, it's just in the baby stages!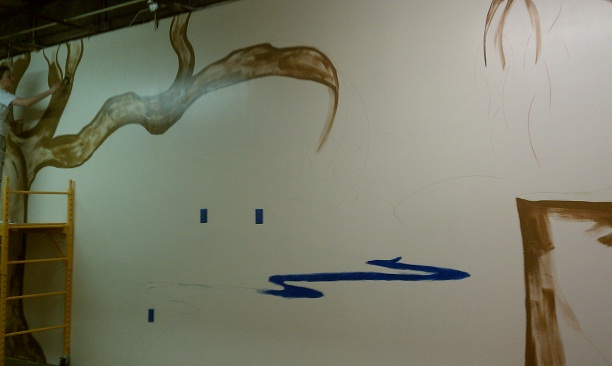 The new mural about 2-3 hours in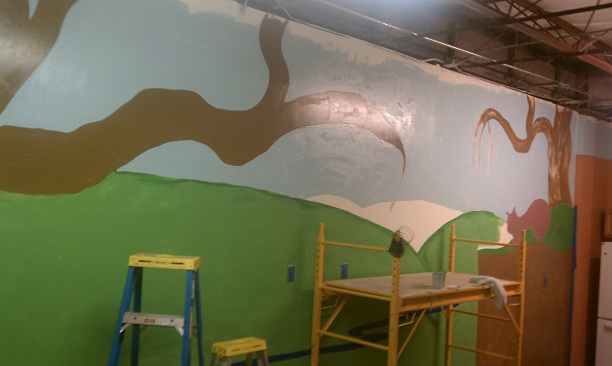 The mural closer to 15 combined hours in!
The Fishroom face lift has started to gain speed! So please excuse the water, mess and tanks misplaced everywhere as we move things around. You know remodeling, you have to move one thing to move another… just to move the first thing back again! It's definitely a process but it's an exciting one!


These photos took place over an hour while we tore down the first section of the wall of the fishroom!
Things to look forward to in your new fishroom!
The old "cave" style of our fishroom will be updated to a more open, inviting corner of the store! Lighting will still be dim for better aquarium viewing but the area itself will be far more accessible.
A new aquatic plant center display – don't worry that the 'plant wall' is coming down, plants are getting an even cooler display of their own!
New, super slick, aquarium display tanks! (Specifics are still a secret!)
Some good deals on used aquariums as we get rid of some of our old tanks! ;) (Including Oceanic Brand 110 gallon show tanks and more!)
Expanded variety in aquatic plants and fish!

Remodeling gets a little messy!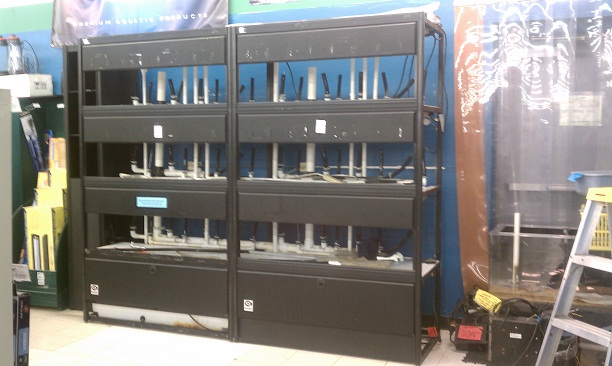 Wait a second, didn't that used to be half of the salt water tanks? Yep! With that wall gone, those tanks are going to line that wall soon!

Now hey, didn't that tank used to be where that big black display of tanks is now? Sure did! Displays in the fishroom will be getting shorter to allow for more visibility!
---
This was posted on 08-30-2010
First of all, we're remodeling our old reptile breeding room into a new education room. This room will be for our kids educational programs! With this room we'll be able to expand our education programs including more involvement in scouting (with badge workshops) after school programs, day camps, spring break camps, continued summer camps and much more! Our entire staff is excited for this change. Don't worry – we're still breeding our snakes and lizards but they've been moved to a separate location!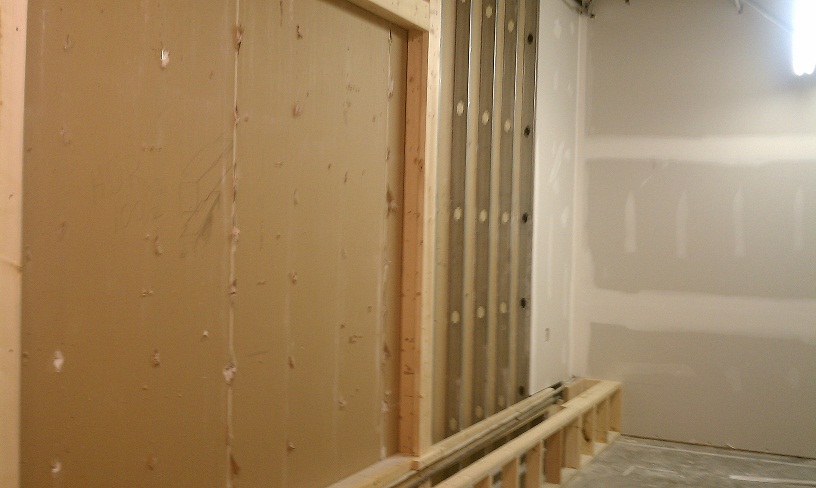 See that piece of the wall framed out? There is something very exciting going there! We're keeping this one a secret, though, for now!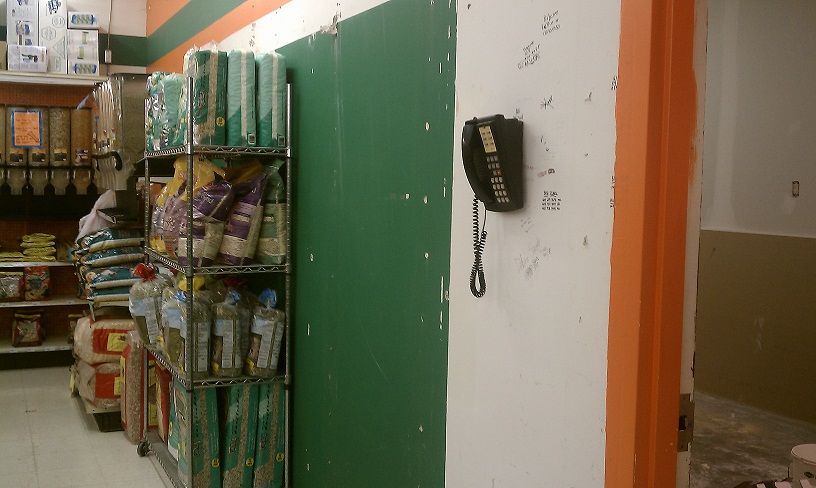 Yikes! The bedding rack is gone! Don't worry. We're still carrying all of the same bedding and hay as before but things have been temporarily relocated. Let an employee know what you're looking for and we'll be happy to grab it for you! Why did we have to get rid of the bedding rack? Well that's part of the same secret involving that conveniently framed out "hole" on the other side of that wall!
Another exciting change is the expansion of the back corner where the Dog and Cat Department meets the Bird and Small Mammal Department! Careful eyes will notice there is a lot more space back there but our kids' program veterans will notice the PW Kids "secret hiding spot" is gone. (If you look up at the ceiling in the corner you can still see where the kids have written all over the wall and ceiling tiles!) Don't worry kids, you're getting your own room now AND we were able to expand that cramped corner!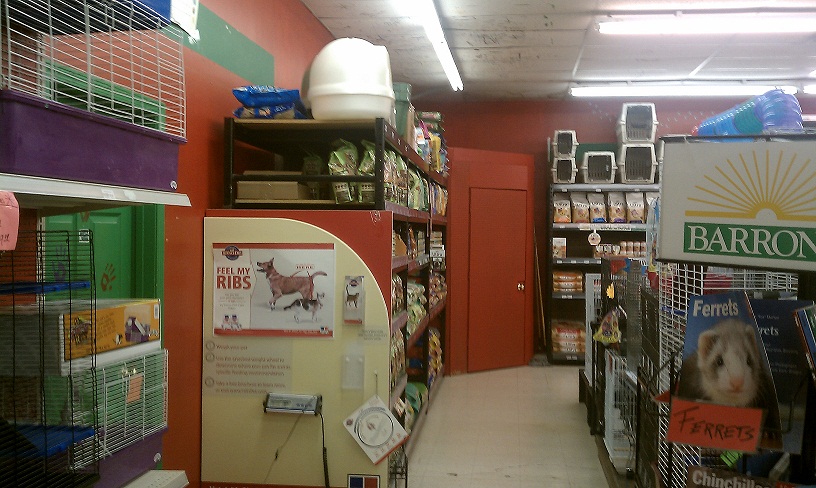 The only remaining piece of the backroom that used to be there is the small red room in the corner so that customers have much more room to move around in the back of the store!
Upcoming projects! (More information coming soon about these!)
The old "cave" style of our fishroom will be updated to a more open, inviting corner of the store! Lighting will still be dim for better aquarium viewing but the area itself will be far more accessible.
The back of the store will open up even more with two public bathrooms!
A reptile department expansion!
The fishroom is going to get a bit of a facelift!
We appreciate your continued support as loyal Pet World customers. We couldn't do all of this without you! We hope you're just as excited as we are to remodel and change the store up a bit!
Thanks from all of the Pet World staff!
---