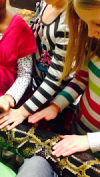 We have spots open for the March 29th Animals After Dark! If you have a child aged 5-8 who loves pizza, animals, and fun then Animals After Dark might be perfect! It also doubles as a little parents night out. You drop them off at 6:30pm and pick them up at 10:00pm! We'll take them across the street for Wheat State Pizza, then meet some animals up close in personal in our Education Room as the staff closes up the store. After the store is closed - we bring the kids out to observe some of the nocturnal animals with our flashlights before we play hide and seek! Whether you're a regular at AAD or a newcomer it's always a fun time!
Lately at our Birthday Parties SNAKES have been a big hit! We even held Goliath at a couple of parties in the last month. Our gentle, big ol' burmese python is always exciting to get out for parties. Another unique opportunity some of our birthday kids have opted for recently is getting to observe a live snake feeding. We're blessed that not only are Pet World Parties fun - but educational! We will jump on any opportunity to let children observe and learn from animals and feeding a snake is no different. After explaining what will happen and how snakes eat, we give any child who doesn't wish to watch an alternative activity to do while the others are watching a snake feeding (sometimes a small group will go hold small animals, or look at the fish while the other group watches the feeding). Then we'll quiet the kids down and offer one of our snakes an appropriately sized rodent. The kids will observe as the snake takes notice of the food, strikes, constricts, and eventually swallows the meal. The kids have to stay nearly silent (because if a snake feels they're in danger they will not eat) and very still. It's amazing to see young children so entranced by nature that they're able to stay so still and quiet for so long. After it's over, we often times talk about what happened and answer any questions. Below are a few pictures from recent parties.
The Pet World staff loves hamsters! These little animals are playful, personable, and super cute. We have a wide variety of friendly and playful hamsters for sale. See below for a list of some of the hamsters we have for sale!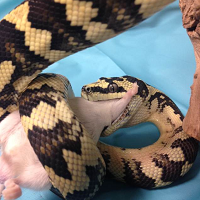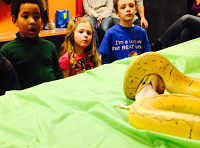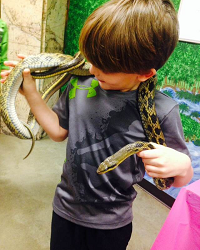 We've also started to book classroom visits for the spring! One of the best parts of our jobs is getting the opportunity to go to schools and teach children about animals and give them unique, hands on experiences with animals they may otherwise never get a change to interact with.
See you soon!