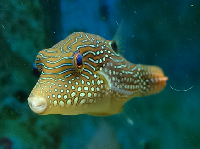 Hello fish folks! This week our very special feature fish will be those that swim the open waters of our oceans looking for smaller fish to eat. That's right, we're talking predatory marine fish - eels, groupers, puffers, lionfish, etc. These guys will be 20% off and if you buy feeder fish with them we will give you the first dozen at 1/2 price through this weekend.
Not into those salties? Don't worry! We have some killer deals on the dry side of things, too. We just brought in some one of kind tank decorations made by hand! We actually went down to the manufacturer's warehouse in Fort Worth Texas and watched them prepare our order! Come by and check them out. Even the employees have been crazy excited over these new decorations!
We've also received a huge shipment of Xavier's favorite type of fish - BETTAS! There are colors that he's never seen and he currently has a pair at home he's gotten to breed - how exciting!
See you soon!