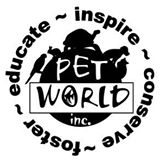 Live Animals and Fire Prevention at Pet World Express
The new location (across the parking lot by Bikram Yoga) is open and running. Well, crawling is probably a better word. But we didn't want to wait any longer to reopen. You need our staff, our feeders, our water, and you've made it very clear you want to spend your money at Pdub Express in order to facilitate rebuilding. We appreciate that very much and the truth is, we need you more than you need us. We need to see your smiling faces, pet your dogs, test your water, trim your bird's wings, count your crickets, and answer those pet questions. Every time you come in, even just to pick up a pig ear for your pooch, you are helping us heal and move forward. Thank you for that.
Everyone wants to know when we'll have pets available at PWX. The building is up to code but not currently equipped with any fire prevention system – not even a smoke detector. We have emergency lights, lighted exit signs, and fire extinguishers but that's it. A sprinkler system is not an option in the temporary location for a variety of reasons beyond our control. But we just found out that our insurance will pay for monitored smoke detection in the temporary location. Not just landline monitoring (which we all know is worthless when the landline is destroyed), but 4G cellular, wireless monitoring! That is very expensive but it's the latest in monitored alarm communication and goes above and beyond most professional recommendations. I hope this is not inappropriate but I must say that American Family has done an outstanding job in assisting us and guiding us since day one when our agent (Ron King since 1988) was on the scene right away.
Here is the dilemma: live animals or no live animals in the temporary location? Pet World will not reopen permanently in the former location or any other location without the latest in fire safety, including sprinklers. If we can't do it right, we won't do it at all and, quite frankly, a sprinkler system is a deal breaker for us. No sprinkler system? No Pet World.
But what about live animals in the temporary location for the next 3-6 months? The system we are installing at PWX goes above and beyond what is being proposed in fire safety code revisions. We'll have 14 smoke detectors monitored by a non-stop 4G cellular alarm communicator with battery backup. Response time will be virtually minutes because the alarm will activate in mere seconds. 14 smoke detectors in this 2400 square foot space is basically the same as one detector per 9' x 9' room – except there are no walls so it's even more effective. Overkill? Maybe. But without a sprinkler system we feel like it's the next best thing. Are we being too paranoid? Yes, but we all know why. PWX is small and we can't house very many live animals but unnecessary risk of even one animal is too much.
So please talk to us. One reason our customers feel the loss as much as we do is because you all are an integral part of PW and you know that. You speak, we listen. We ask, you answer. Pet World is yours more than ours. So here is my question to all our tangible customers, current and former, who actually shop with us in Lawrence and understand exactly what PW means to the Lawrence community: How do you feel about us having live animals in the temporary location after the new fire prevention system is installed, even though it will not have sprinklers?
Please comment via facebook, twitter, or on the original blog post at sherryemerson.com (where it is being hosted to facilate participation without the use of social media). Your feedback is very important. Thank you.