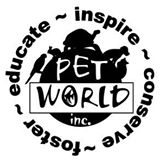 PET WORLD EXPRESS!
Have you visited PWX? It's small but more and more stocked by the day. Filling your orders and adding them to normal stock has worked well to improve our inventory. We know it's not the same experience without all the animals and activity and we truly appreciate your support. Insurance helps the first eight weeks but after July 25, the business must support its own expenses. Your continued patronage helps cover labor costs and as sales increase we can start calling more employees back to work! You already know supporting local businesses creates and sustains Lawrence jobs but in this situation you quite literally are maintaining our employees by shopping with us. Thank you! PW employees work hard to get and keep their jobs. They make commitments to us and to the community while we commit to them. Laying off more than half our staff after the fire was heartbreaking. Your support is making it possible to bring them back to work one at a time and we can't thank you enough!
It's been very nice to reconnect with so many familiar faces. We can't believe how many of you held out that first month, buying little to nothing elsewhere, confident that we'd find a way to reopen as soon as possible. We feel honored that you trusted us. Your loyal patience is inspirational. In fact, please bring us pictures of your favorite PW memories for our inspiration wall because sometimes your faces are about the only things that keep us going on difficult days.
LIVE ANIMALS AT PWX
Your recent feedback was critical regarding our live animal decisions for our temporary location. As always, when we aren't sure what to do, we ask and you answer. With your help, after much discussion, we've reached a final decision.
Compromise and Collaboration
Excessive paranoia aside, a small compromise seems best while sticking close to our new resolve regarding fire safety. Based on our animal losses during the fire, it's obvious which animals are at the highest risk. We're hoping new legislation will address these risks and set a new industry standard for fire prevention and we're honored to be included in these very important discussions. I am very proud of our city and the current fire safety collaboration taking place on the local level, all the way up to the national level. City officials are considering input from many stakeholders, big and small. The two largest animal housing facilities in Lawrence are Pet World and the Humane Society. Fortunately, we work well together, sharing the same mission, and now we're honored to work with LHS again on this most important issue.
Monitored Smoke Detection and Sprinklers
Our new system has smoke detection that is monitored 24/7 via cellular and landline, both. We're also adding a WiFi component, all housed in a fireproof box with battery backup. Live feed surveillance with monitored temperature control is in the works. The city is pushing for mandated monitored smoke detection in all facilities and we hope they take it to the next level and require back up monitoring via cellular since we all know a landline can't call for help when it's destroyed by fire. Sprinklers are not available in our temporary location but we will definitely have them when we return to our big building. Now that fire sprinklers operate independently we no longer believe sprinklers are a hazard in our industry. In fact, we wish we would have already had them and believe sprinklers should be mandated in all animal facilities – especially those housing high risk pets such as birds or mammals overnight. One safety code suggestion is to require sprinklers in facilities over 3000 square feet but the problem is that size has less to do with animal safety than staffing. We're hoping the focus will shift to potential animal risk as opposed to a facility size that will exempt virtually every facility in town, rendering that particular proposed code change fairly pointless.
Unattended Animals – the Primary Concern
Of course the real issue here is not so much about fire safety while people are present; it's about early detection and prevention when people aren't around to help those who can't help themselves. Animals in a building can't save themselves from fire. Therefore, the most important safety measures are the ones put in place for when animals are unattended. From leaving your cat inside when you go to work, to caging birds in rescue facilities, to keeping fish in your office, this fire has compelled important, fascinating discussion. As for us, we're not as concerned about animals inside who are attended 24/7 as much as those left unattended for periods of time.
Birds at PWX
Because birds can die from simple Teflon fumes while we cook in our kitchens, we believe that, in the event of a fire, birds are the highest risk pets and should not be housed unattended anywhere without an advanced fire prevention system, monitored 24/7 via cellular and landline, that includes sprinklers to keep small fires under control to reduce smoke while awaiting rescue. For this reason, other than daytime visits, we will not keep birds for sale at PWX, but we will have birds again when we return to our refurbished building (complete with sprinklers). We still have all our connections, though, so when you are ready to make your bird purchase we can help you with that.
Mammals at PWX
Mammals are next on the high risk list. From the tiniest mouse to the largest dog, all mammals are highly susceptible to smoke. Even though our new detection system at PWX surpasses most U.S. animal facilities (since we have constant cellular in addition to landline), because it won't have sprinklers, we will not house mammals overnight while we are closed. We will bring in a limited number of live mammals for sale and exhibit each day but they will go home with us each night.
Reptiles and Arachnids at PWX
As we discovered after the fire, many mature reptiles and arachnids have a remarkably high tolerance for smoke. For this reason we will house a limited number of reptiles and arachnids for sale and exhibit and most will stay on site overnight. This will also help PWX feel more like the Pet World experience you've come to know and love.
Fish at PWX
Our aquarium fish selection is terribly missed by many and since fish are the least susceptible to fire and smoke, we have set up one fish wall. The tanks are up and running and we'll increasingly add fish as the systems become more established. These seasoned tanks will not only recreate an important part of the PW experience but also help us prepare our new fishroom when the time comes.
Boarding
PWX will not be offering boarding in the temporary location. Fortunately, though, we have finally reached a decision that we will once again offer exotic boarding when we return to our refurbished building and will be pleased to offer the safest boarding possible with state of the art facilities unlike anywhere I've ever seen.
SERVICES
Except for boarding, all other services are now available. Wing and nail trimming, water treatment, water testing, and free, professional consultation are all back in full swing with normal business hours. We are excited to announce the return of StorytimeLive! and Feature Creature the first of August!
BIRTHDAY PARTIES
While on site parties won't be possible at PWX we are now offering off site parties! Please call Ande at PWX to discuss.
BUILDING and POTENTIAL REOPENING DATES
The old building has finally been officially and completely released by all parties involved. The property owners are working through bids and doing everything they can to expedite the rebuilding process. Assuming the building can be repaired without a total demo, inside estimated dates are near Halloween while outside estimates are Christmas. Fingers crossed!
FUTURE UPDATES
It has been my privilege and pleasure to serve as the voice of Pet World for so many years and throughout this tragedy. Communicating with all of you has been therapeutic and your supportive feedback is uplifting and truly inspiring. Future updates will continue to be posted on our website and via social media but the focus will now shift to shorter, more information based posts.
I'll be locating the more detailed and emotional posts on my personal blog at www.sherryemerson.com to spare many readers the long updates. The good news is that you'll be able to check in at PW now without the risk of tears! (No promises if you read my personal blog, though, because I have some pretty serious stuff to process regarding some of the behind the scenes ways the tragedy has affected our family and staff along with inspirational stories about customers and children.)
PW Survivor Series
Hopefully you've seen our video series on animal survivors by PW's own Rachel Cross (available for viewing anytime on YouTube). It's been truly beautiful to see the employees caring for the rescued animals. Last night, Tim broke his silence and gave Rachel the interview that many a news reporter has been denied. Parts of his interview will be in her fourth and final video soon. I was very proud of Tim for finally opening up a little. Until now he has really only spoken with family and close friends. I think seeing some of you at PWX has helped him a lot.
Returning to Normal Weirdness
After seeing our employees handle so much stress and witnessing Tim's progress I think it's time for me to step off the stage now and let PW transition back to what it was before the fire. After the tragedy I became equally protective of and dependent on our staff. Most of them felt too lost for words and as a mother I couldn't help but want to shelter them while they each found their own ways of coping. Keeping them close has been as much for me as for them. They have accomplished many great feats and there is no way Tim and I could have moved forward without them. But the truth is we have many voices at Pet World and all of them are worth hearing. The focus of our social media needs to return to our part in the community. Pet World was never about me and it's really not even about Tim. It's about your relationships with our staff and our employees' relationships with the community. The grieving process is complicated and we still have a long way to go but I believe we are all ready for some normal Lawrence weirdness without the tragic tales.
We will never forget what happened. Surviving was our first test. Rebuilding will be our next. But now Tim and I need to step back just a little and focus some much needed attention on our immediate family. Our kids have been amazingly strong but they miss their parents and we miss them, as well as each other. What a crazy, intense, whirlwind this has been. We're encouraging our managers to take some time off as well. Family first, as you, our extended Pet World family, have proven to us by the way you have surrounded us with your unconditional love and support.
Thank you for listening. Thank you for following. Thank you for sharing. Thank you for carrying us. And thank you for making this journey so worthwhile. Every day I thank God for the people in my life, including you. The staff at PWX eagerly awaits your visits and Tim and I will see you again very soon.
~Sherry