Progress! The old building has been gutted down to the studs and concrete. Next will be the replacement of the entire roof. We have a lot of work ahead of us but, thankfully, we're in forward motion with an end in sight! Tentative reopen dates are still projected for November. We'll just have to wait and see.
Tim and Sherry met with the designer/manufacturer who helped us remodel our live fish department a year ago. They toured the facility, shared ideas, drew sketches, and made preliminary plans. Sherry said they "...revered time spent on conception and creation as opposed to destruction and devastation, surrounded by like minded people who understand our mission and share our vision to bring the Pet World experience back to Lawrence even better than before. No insurance adjusters, no cleanup crew, no accountants, no stench from electrical smoke – just good ol' Texas hospitality from a creative, Dutch family who runs an impressive American business." See her latest blog post for the entire story and her reflections on finally feeling some real hope for the future.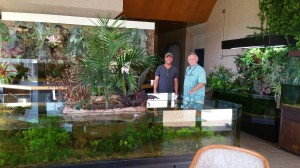 Tim and Lambert deHaan at Dutch Aquarium Systems
The PWX temporary location has been great and the customer support has enabled us to recall NINE employees back to work! Seeing all of you and moving forward is helping us all feel normal again. We're getting excited about rebuilding. Sherry says, "...if folks liked the Pet World experience before the fire, they're going to love it even more when we reopen – our staff as much as our customers." The new exhibits are going to be spectacular.
Special thanks to the deHaan family and D.A.S. for helping us rebuild! www.dasaquariums.com.
For more personal, detailed information on the latest happenings after the fire, please visit www.sherryemerson.com.