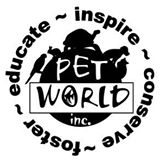 Announcing the OFFICIAL COUNTDOWN to reopening Pet World!
You miss the PW experience. We miss the PW experience. The temporary location has been great but we are all SO READY to get back in that big building! Let the countdown begin.
Immediately after the fire our web site traffic exploded and we are happy to announce we have replaced it with a new site that is much more mobile friendly. We still have a few details to work out but we think you'll like it! You'll notice you no longer have to scroll through miles of fire updates to read the most current update. That's just one of many improved features!
If you've driven by the damaged location you've seen it was essentially destroyed. The fire was much worse than anyone realized and even the steel, overhead beams were destroyed. With a fire that intense that reached flashover so fast, we are truly fortunate that Pet World was closed at the time. After seeing the extent of the damage we now understand why so many officials don't believe any people would have made it out of that fire alive if we had been open. Drive by sometime soon and you'll understand why we are now the biggest proponents of fire suppression systems you'll ever meet. We will have 24/7 monitored smoke detection with not just landline monitoring but wifi and cellular monitoring! That means a fire alarm will be sent in the time it takes to send a text message. Our cell phones will be alerted as well as central dispatch and emergency services, all within mere minutes. We'll also have live feed surveillance with 24/7 temperature readings as well as high tech fire sprinklers. Our systems will rival those of a hospital. The new building will be the safest place in Lawrence for animals and animal lovers alike!
Good news! We finally have an official timeline. Expert masons are finishing up the brick replacement right now and the roof gets rebuilt immediately after that, then it is game on! Once the building is secure from the elements this project will finally gain serious traction.
Here is the game plan:
Wed, Nov. 25
The employment process section on the new web site will be updated with new hiring dates and the new pdf application by Wednesday, Nov. 25. We will be closed for Thanksgiving then start accepting applications on Black Friday, Nov. 27 and continue accepting apps up until the Monday before Christmas.
Sat, Nov. 28
All of our holiday specials will begin on Small Business Saturday, Nov. 28 and continue through Christmas Eve. Take advantage of fabulous prices to expand your pet passion.
Sat, Dec. 5
Our annual Holiday Sale will be Saturday, Dec. 5, 10am-8pm. We've borrowed some showroom space in the old Hume music location next door to bring in aquariums, large cages, and more! These are available now so come by and check them out!
Mon, Dec. 7
Online, phone, & face to face interviews will begin as early as Dec. 7 and continue as needed through Dec. 23. We have recalled all previous employees, however, we still need to replace our senior launches from last May. This winter hiring replaces what would have been our traditional fall hiring.
Saturday, Dec. 12
Our staff Christmas party is Sat night, Dec. 12. Please forgive us for closing a little early to have a much needed get together with a staff that has been through a very long grieving process. We'll close at 6pm on Dec. 12 for the staff party which begins at EPIC followed by our traditional dinner party at the Emersons.
Mon, Dec. 14
Our new fish aquarium systems are scheduled to arrive on Dec. 14. As soon as they arrive, Ian and Xavier will transfer half of their hours to the rebuilt location to help with the installations. In the weeks following, more managers will disappear from PWX to help with set up. Matt, Jeremy, and the rest of the temp staff will work extra to meet all your needs as well as more returning employees who are helping us with the transition. For safety reasons, the rebuilt location will be completely off limits to the public until Jan. 22.
Thu, Dec. 24
In keeping with a longstanding PW tradition, the entire management team will work with Tim and Sherry on Christmas Eve. We will serve cookies, eggnog, and help customers pick up surprise Christmas gifts up until 4pm. At four o'clock we'll lock up so everyone can get home to their families.
Fri, Dec. 25
PW will be closed on Christmas Day.
Mon, Dec. 28
With a new occupancy permit in place, all of our new shelving will arrive this week. The entire PW staff will be working tirelessly to get everything set up. We'd like to thank all the customers who've already offered to help us set up. Unfortunately, insurance only covers employees but thanks, anyway! We have the best customer family ever!
Starting this week we will have a new set schedule at the temp store to cover managers' absences. All inactive employees are being called back full time by Dec. 28.
Sun, Jan. 10
All new hire interviews will be completed by Jan 10.
Thu, Jan. 14
Rookies will attend training seminars Jan 14-17 then shadow train with PW trainers starting Jan. 18.
Fri, Jan. 22
Pet World Express will close at 1pm on Friday, Jan. 22 to move all remaining inventory over to Pet World and will not reopen. All PW Rebuilding Team members (anyone with a fundraiser Rebuilding Team shirt) are invited to a Private Unveiling Party on Friday, Jan. 22, from 6-8pm.
We started offering fund raising shirts a few weeks ago and as of today we have about 375 of the 1000 shirts left. They are currently $20 for long sleeve, $15 for short sleeve, while supplies last. Your Rebuilding Team shirt is your ticket to the private party including free drinks, snacks, music, and private tours of the new, state of the art facility. Any remaining shirts will be for sale or auctioned to the highest bidders in the PW parking lot Friday evening.
We'll begin with a special 27 minute lighting ceremony out front at 5:33pm. PW will be closed to the public that night but anyone wearing a Rebuilding Team shirt will be let in at 6pm (or as soon as there is room if we go over occupancy capacity). At 8pm we will wrap up the party to decorate for the Grand Reopening the next morning!
Sat, Jan. 23
We will reopen to the public on Saturday, Jan 23! (Easy to remember as 1/23.) Current and former employees will join us to welcome you to the new Pet World Experience. We'll open at 10am with special events all weekend! Not all of the new exhibits will be complete and we'll be missing some new shelving (excuse the boxes) but we'll be ready to move back in and reopen!
Mon, Jan. 25
Normal business (if there is such a thing) will resume at Pet World starting Mon, Jan. 25, exactly eight months after the terrible fire.
We are very grateful for your support at our temporary location and will be especially happy to once again offer you the Pet World experience you've come to know and love! Please help us spread the good news!